In 2010, BBC Radio 4 embarked on a quest to find 100 objects that summed up the past 2,000 years of human history. Made in collaboration with the British Museum, they covered great artworks, historical artefacts, and all manner of inventions to help define how far humankind had come.
When it came to their final episode, they had to pick an object that best defined 2010 and the world going forward.
The object they picked was Didier Drogba's Chelsea kit – a shirt belonging to an Ivorian who grew up in France and played for an English team owned by a Russian billionaire, sponsored by a Korean phone brand, and manufactured by a German sportswear company.
It was a fitting choice to encapsulate life in a truly global 21st Century, but also underlined just how influential Didier Drogba was to the Premier League.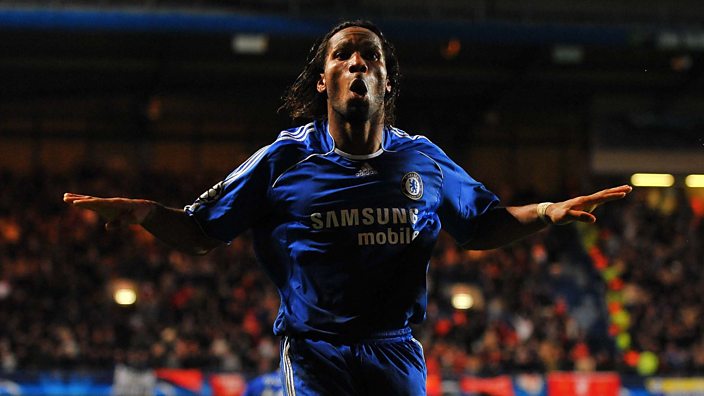 Call any footballer a great and first you will have to list their accolades.
Drogba – with his four Premier League titles, four FA Cups and a Champions League winners' medal – was no slouch in that department. But, at his peak, Didier Drogba wasn't a footballer, he was living legend.
His legend starts early. His mother, Clotilde, claimed that she was pregnant with him for 10 months, and that he began walking at only seven months.
"He never crawled on all fours," said Clotide, and while you could take it with a pinch of salt, by the time Didier Drogba reached adulthood, he became a character unable to bend the knee.
Much of Drogba's early life was spent on the move. At the age of five, he moved to France at the insistence of his uncle (and professional footballer) Michel Goba, who persuaded Drogba's parents that coming to Europe would 'give Didier a chance in life'. He moved back to the Ivory Coast at age eight, only to return again to France aged 11 when an economic crisis in the West African country rendered both of his parents unemployed.
It was on his return to France where Drogba was first spotted as a footballer. Playing at full-back for a local team in Dunkirk, Drogba returned from an after-school game where his uncle asked him, "Why are you playing as a right-back? As a family we only have strikers."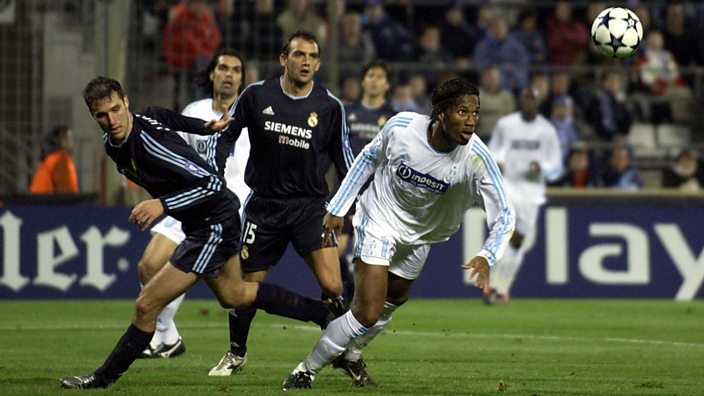 Drogba became a striker, but unlike Thierry Henry, the impact of the positional change was not immediate. In fact, Didier Drogba did not play top-flight football until the age of 23, when French side, Guingamp, picked him up from Ligue 2 club Le Mans in January 2002.
A move to Marseille came 18 months later (where he had an impressive run to the UEFA Cup Final in the 2003-04 season), but it was not until Drogba completed a £24m move to Chelsea in 2004 that he became a transcendent force.
One can look at Didier Drogba's 164 goals in 381 games for Chelsea and come away confused. Drogba's tally for the Blues (he is their sixth highest goalscorer), is good, if not truly spectacular, but if you ask a Chelsea fan about him and they'll describe Drogba as a blue-blooded God.
Few strikers inspired fear in opponents in the way the Chelsea striker did in his pomp.
Former Everton goalkeeper Tim Howard once called Drogba the most fearsome player he'd ever faced in a one-vs-one.
William Gallas said his defensive partner at Arsenal, Philippe Senderos, "would genuinely panic" when he was faced with the Ivorian. Drogba scored 13 times in 15 games against the Gunners alone – the sight of him bearing down on goal was akin to a herd of wild horses on the stampede.
Drogba's robust playing style was so effective that he spearheaded the movement of the Premier League from the 4-4-2 era to a time where the 4-3-2-1 formation was king.
The pure power in his possession meant he infuriated and frustrated football's old guard with some of his on pitch histrionics, but, despite his fondness for falling to ground after tackles, Drogba was not the selfish diva that many footballing minds painted him as.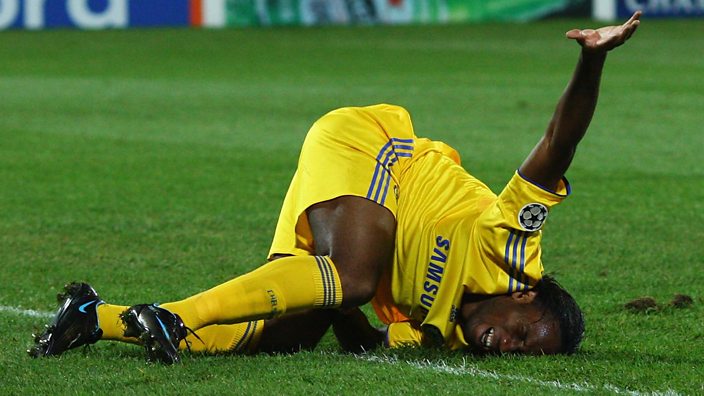 Many in football underestimated Drogba's intelligence: they saw his 6ft 2in and 13-stone frame and assumed he was merely a wrecking ball, but there was cunning to the chaos that Drogba brought to the football pitch.
With him in the team, Chelsea didn't need to play two strikers up top. Drogba was a one-man strike partnership, capable of bullying defenders and creating space for Chelsea's supporting cast. No duo in Premier League history have combined for more goals than Frank Lampard and Didier Drogba's total of 36.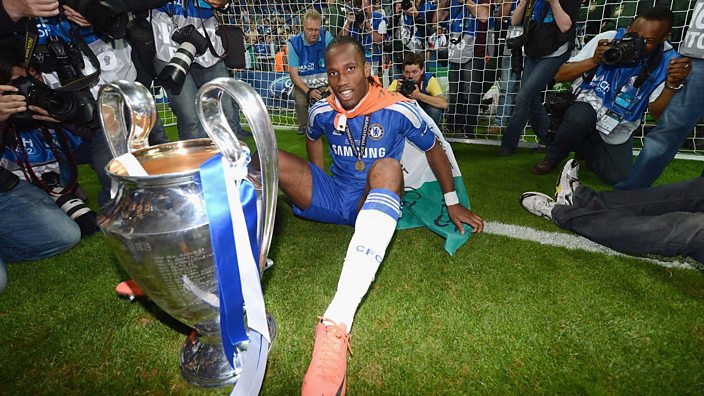 And then there was his approach to finals…
In American sports, they have a concept known as "clutch" to describe an athlete who can perform incredible feats in moments of high pressure or difficult situations. Score 20 goals in Premier League season and you're a good striker. Score in extra time in a FA Cup final and you are a "clutch" one.
To this day, Drogba remains the only player to score in both English domestic cup finals in the same season (in 2006-07).
As Frank Lampard explained: "In the dressing room before a big game, it was a different Didier, he was like an animal. His preparation, the intensity in his eyes, and then he always produced."
Local derbies, top four six-pointers, title challenges or cup finals – if the game was big, Drogba got bigger. He scored nine goals in nine cup finals for Chelsea, making him perhaps the most clutch player European football had ever seen.
Chelsea's unlikely Champions League victory in 2012 owed itself to the duality of Drogba's play. Selfless enough to work as an auxiliary left-back when Chelsea were trying to defend against Barcelona in the semi-finals; brave enough to get on the end of Juan Mata's corner in the 87th minute against Bayern Munich to equalise in the final.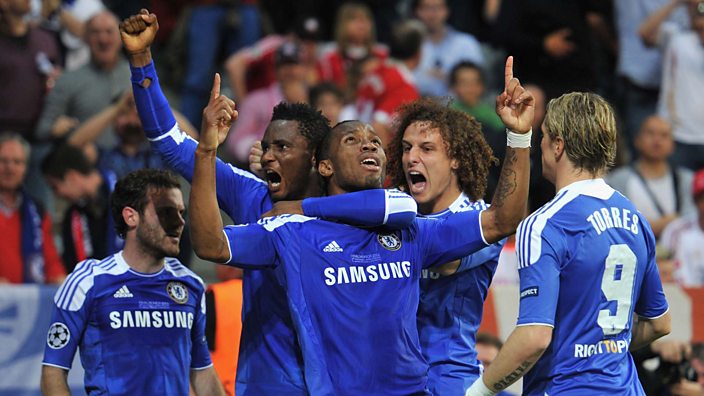 Frank Lampard claimed that as the corner swung in he could hear Didier shout "Mine!" behind him and got out of the way. It had to be Drogba to score in that Champions League final in Munich. It had to be Drogba who put his patched-up and unfancied team-mates on his back and carried them into extra-time in Munich.
And it had to be him to score the winning penalty in the shootout to win Chelsea the Champions League trophy for the first time.
It has been said that pressure reveals character. Drogba turned out to have one made from clearest diamond.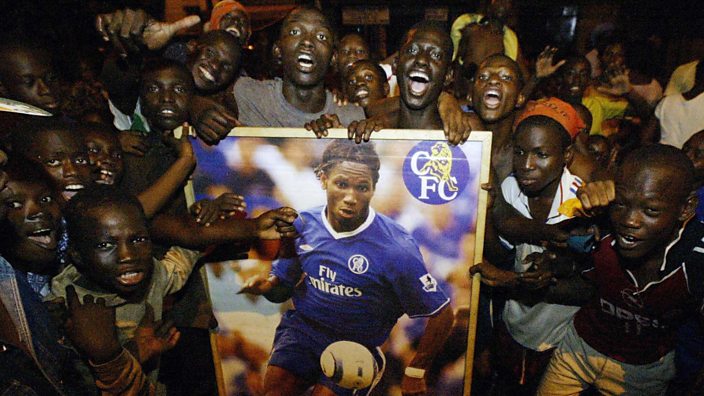 However, Didier Drogba's greatest triumph occurred not in a football match, but in its aftermath.
On 8 October 2005, the Ivory Coast beat Sudan in a World Cup qualifier to book their place at the 2006 tournament. With the nation in the midst of a civil war, torn by religious and political tensions, Drogba seized a unifying moment for his country and invited TV cameras into the Elephants changing room where he made a speech to camera.
Drogba begged people in the Ivory Coast to forgive, lay down their weapons, and end the four-year conflict that had plagued their nation and instead take to the ballot box for a series of elections that would be held the following year.
The man spoke and a nation listened – the elections went off without bloodshed.
Some years later, Drogba played a pivotal part is getting an Ivory Coast qualifier against Madagascar moved from Abidjan in the south of the country to the city of Bouake, a former rebel stronghold to the north.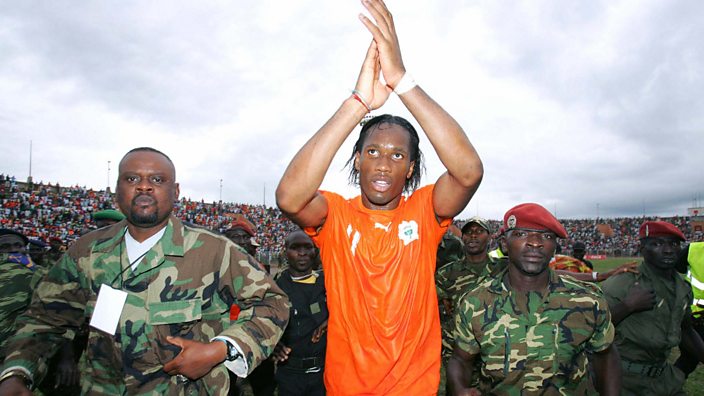 Some players win trophies. Others inspire people. It is not hyperbole to say Didier Drogba did both and helped to end a civil war.
The arch tormentor of defenders and 'proper football men' alike, Chelsea, football, and the world at large owes a lot to the work of Didier Drogba.